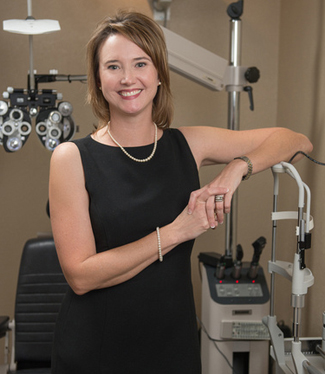 Nichole Q. Soto, O.D. grew up in a military family living in various states before her father retired in San Antonio, Texas. She graduated in 1995 from West Texas A&M University (WTAMU) with a Bachelor of Science degree in Biology and a minor in Chemistry. During her college years, Dr. Soto pursued her interest in medicine by working five years as an ophthalmic technician for two private practices along with volunteering her time as an emergency room technician. During this time, she also worked for WTAMU in the Offices of Student Affairs Commuter Services. She was an active member of the Pre-Medical Society, Beta-Beta-Beta Biological Honors Society and a community service sorority Beta-Sigma-Phi. During this time Dr. Soto was also involved in the college foreign-exchange program and was the liaison for students studying at WTAMU. She tutored college students in organic chemistry and biochemistry and received the Presidents Honor Roll in 1995.
Dr. Soto graduated with her Doctor of Optometry from the University of Houston, College of Optometry in May of 2000 with a Glaucoma and Therapeutic License. While in optometry school she was an active member of the American Optometric Student Association, Students Volunteering Optometric Services to Humanity and Fellowship of Christian Optometrists. She continued her work as an ophthalmic technician in a private practice in the Houston area. Dr. Soto received extensive training under two neuro-opthalmologists studying neurological conditions and they eye. In 1999, she completed her externship at the Eye Institute of San Antonio and Sharp Eye Consultants specializing in ocular disease and management under fellowship trained Richard P. Sharp, O.D., and Steven E. Campbell, O.D. This specialization training included diabetes, glaucoma, macular degeneration, cataract, dry eye and refractive surgery. She then traveled back to Houston in 2000 for her externship at the Frost-Montrose Eye Clinic where she received specialty training with HIV/AIDS. After completion of her externship she was accepted into the residency program at the University of Houston in ocular disease. Through this residency program she trained at St. Joseph Hospital, San Jose Eye Clinic, Frost-Montrose Eye Clinic and rotated through various programs in UHCO including neuro-opthalmology.
In February 2001 she left the program to take over a private practice in Rockport, Texas, where she practices today. This practice started fifty years ago and continues to provide eye care to the coastal bend and surrounding areas.
For over 10 yrs Dr. Soto has traveled to small towns in Mexico providing services for those in need. Dr. Soto is involved in the local Lions Club who supports children in the community by providing eye care and glasses. She sponsors children to attend the Texas Lions Camp in Kerrville, supports Downline Conway and also helps with the Fellowship of Nicaragua and their mission team. She sat on the Board of Directors of the Aransas County Medical Services, Inc. for 16 yrs to help "keep our ambulances rolling." She is active member of the Rockport Chamber of Commerce, American Optometric Association and the Texas Optometric Association. She actively supports the Aransas community by contributing her time and resources to ACISD in her annual cow eye dissection lab for all 5th graders, also supporting the Pirate Club, NJROTC, band, cheerleaders and bonfire.
Dr. Soto is married to her wonderful husband, Michael. They have 3 joyful children, John, Lorraine and James, as well as two energetic pets, Bella and Boomer her dogs. In her spare time, if any, Dr. Soto enjoys family activities, playing the guitar and praising the Lord.